Professional Carpet Cleaners
When you choose Chem-Dry for carpet cleaning, you get a deeper clean, faster-drying carpets and a healthier home for you and your family.

Chem-Dry has become a trusted name in carpet cleaning for thousands of households, cleaning in more than 10,000 households daily worldwide and more than 1 billion square feet of carpet every year, and for good reason. Our carpet cleaners use a unique Hot Carbonating Extraction (HCE) cleaning process to deliver a deeper, longer-lasting carpet cleaning combined with a green-certified solution that is all natural and safe for your kids and pets. This means you get a clean that is healthier for you, your family and your home.
DRIER. The Chem-Dry carpet cleaning process uses 80% less water than typical steam cleaning, so carpets dry within hours, not days. This means you and your family can get back to enjoying your home sooner. See a full comparison of Chem-Dry vs steam cleaning to see all of the benefits of choosing Chem-Dry carpet cleaners.

CLEANER. Our primary carpet cleaning solution is carbonated and, just like club soda, as it penetrates deep into your carpet's fibers, it lifts the dirt from deep within your carpets so it can be whisked away with our powerful extraction equipment giving you the most thorough clean. And there is no dirt-attracting residue left behind, so carpets stay cleaner longer.

HEALTHIER. Our carpet cleaning services use a low-water method which means there is less risk of mold and mildew growth under your carpet that can result from the excessive water used by most steam carpet cleaners. We use an all natural, green-certified cleaning solution that does not contain any harsh soaps or chemicals and is completely safe and non-toxic for your family and pets. Additionally, an independent air quality lab found that our HCE method removes 98% of common allergens in your carpets and upholstery, and when a sanitizer is added, 89% of bacteria is removed for your indoor air*. That adds up to a safer carpet cleaning that is healthier for you, your family and your home.

Our HCE Process is Tested & Proven to Remove Allergens and Bacteria
We understand that you have a choice in carpet cleaning services. But not all carpet cleaning services are alike. To find out how big an impact a Chem-Dry cleaning can have on home health, we thought it would be helpful to measure how effective our cleaning process is in eliminating unhealthy and unwanted elements from your home. So we commissioned a leading independent air quality laboratory to conduct a study using Chem-Dry's Hot Carbonating Extraction (HCE) process in multiple homes. The lab found that Chem-Dry carpet cleaner removes an average of 98.1% of common household allergens such as dust mite allergens and pet dander from the carpets and upholstery we clean and found that, when adding sanitizer to our HCE carpet cleaning process, we removed an average of 89% of the bacteria in the air and 82.3% of the bacteria from carpets. With Chem-Dry carpet cleaner, you can breathe easier about the healthfulness of your home for your family.

Compare Our Packages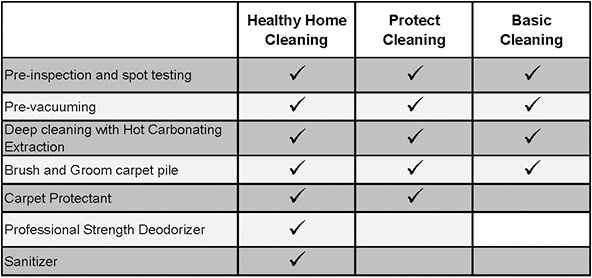 Find out below how Chem-Dry's Carpet Protectant Package and Healthy Home Package (professional strength deodorizer and sanitizer) can help protect your home from everyday stains, unhealthy allergens and bacteria.

Fight Stains with Carpet Protectant Package
Your carpets get a lot of use, dirt and spills are inevitable. Over time, the factory-applied stain resistant becomes less effective and fades away leaving your carpets susceptible to staining. Chem-Dry Protectant is a heavy duty compliment to our carpet cleaner that refreshes the performance of stain resistant carpets, creating a barrier around the carpet fibers to resist soiling and staining by allowing spills to be removed before staining can occur.

Protect Package: A trio of protectants to revitalize the stain resistant power of your carpet:
PowerGuard Protectant®- This revolutionary carpet stain protectant not only gives a boost to your carpet's stain-resisting powers, but works well with solution-dyed carpets.

Repel Protectant- Repel Protectant works with all kinds of carpets by forming a protective shield around each carpet fiber. This liquid-repelling carpet solution doesn't give stains the chance to set in. It repels most stains, allowing a window of opportunity for you to soak up the spill on your own before it adheres to the carpet fiber.

Wool Protectant- Chem-Dry's Wool Protectant is a water-based solution specifically designed to enhance the stain resistant qualities of wool carpets and rugs. It defends against most liquid spills to stop stains in their tracks.

Sanitize and Deodorize to Reduce Allergens and Bacteria with Healthy Home Package

Does someone in your home suffer from allergies or asthma so you are concerned about allergens and air quality? Do you have children - or even pets - who love to roll around and play on the carpet so you are worried about bacteria? Carpets are beneficial acting as giant filters absorbing and collecting common allergens and germs. But, just like an air filter, carpets become full over time and must be properly cleaned to remain most effective at trapping particulates as they settle from the air. The Chem-dry carpet cleaning service has been tested and proven by a leading independent air quality laboratory to effectively remove an average of 98.1% of common household allergens from the carpets and upholstery we clean. And when a sanitizer is added with the healthy home package, 89% of the bacteria in the air and 82.3% of the bacteria from carpets was removed*, leaving your carpets and air quality clean and healthy and your family safer.

Healthy Home Package: Deodorizer/Sanitizer:
·Sanitizes home to eliminate unhealthy bacteria that can spread illness
·Reduces common allergens from dust mites, pests, pet dander, pollen and more
·Special deodorizer reaches odors absorbed in your carpets so they aren't just masked – they're eliminate

Read our helpful tips for preparing your home for a Chem-Dry carpet cleaning appointment.

Make Chem-Dry your trusted carpet cleaner. Ask a Chem-Dry representative how we can revitalize your home's carpets for a longer lasting, healthier clean with our basic, protectant or healthy home cleaning for your carpets today.

People Also Ask
What is the best carpet cleaner to buy?
For maintenance in between professional cleanings, there are a number of Chem-Dry products available online, such as the Stain Extinguisher and Carpet Deodorizers, that will help you to tackle dirt, spills and odors. You can also purchase professional strength cleaners from your local Chem-Dry professional.

What is the best homemade carpet cleaning solution?
There is no substitute for professional-grade cleaning, but regular maintenance can help keep the dirt away. Chem-Dry uses many products that are all-natural, and sometimes the best solution in between professional cleanings is regular vacuuming with a HEPA filter to keep those airborne allergens at bay.

What can I clean my carpet with?
In between professional cleanings, you can use any of the Chem-Dry spot removers, and of course, use of a good quality HEPA filter equipped vacuum regularly.

How do you clean my car's upholstery and carpet?
To supplement regular vacuuming, you might need to remove some stubborn dirt or stains from the upholstery and carpet in your car. Oil can get particularly deep and difficult to remove, so you might want to try a Grease and Oil Stain Extinguisher.